All-in-one money transfer solution
Everything you need to operate your remittance business globally

Business Management
Track and manage your transactions, customers, accounts, and FX reports

Live Interbank FX Rates
Real-time market data of over 1,500 currency pairs with historical charts

Compliance Database
Automated AML/CFT screening and ongoing monitoring to fulfil KYC regulations

New Revenue Stream
Receive new remittance orders from OneHypernet's network at 0% commission
Receive new remittance orders at 0% commission

Generate new revenue from retail, SME, and corporate customers for free

Onboard customers and receive orders digitally without managing your own website
How it works

OneHypernet acquires retail, SME, and corporate customers for you

Customers place orders to send money overseas at OneHypernet's portal

Orders are forwarded to you for processing while OneHypernet handles customer servicing
Integrated AML and KYC solution

Automated screening
of your remittance transactions or search manually
Robust search options
by checking partial and proximal matches in multiple languages

World's largest PEP database
with more than 3 million entities in 250 countries and territories

Generate reports
for regulatory requirements such as MAS and STR filings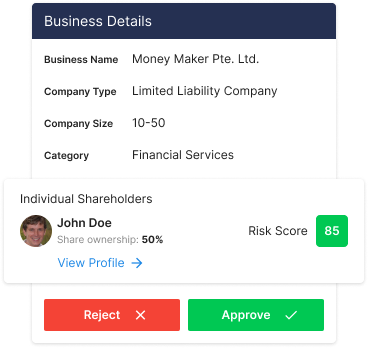 ---
Rates settings and Real-time mid-market data

Set buy/sell rates
by manual input, excel upload, or automate by pre-set margins

Compare your rates
against real-time market data of over 1,500 currency pairs

Customise rate settings
by quotation, decimal, unit, and beneficiary location

Analyse FX charts
with five years of data for all major currency pairs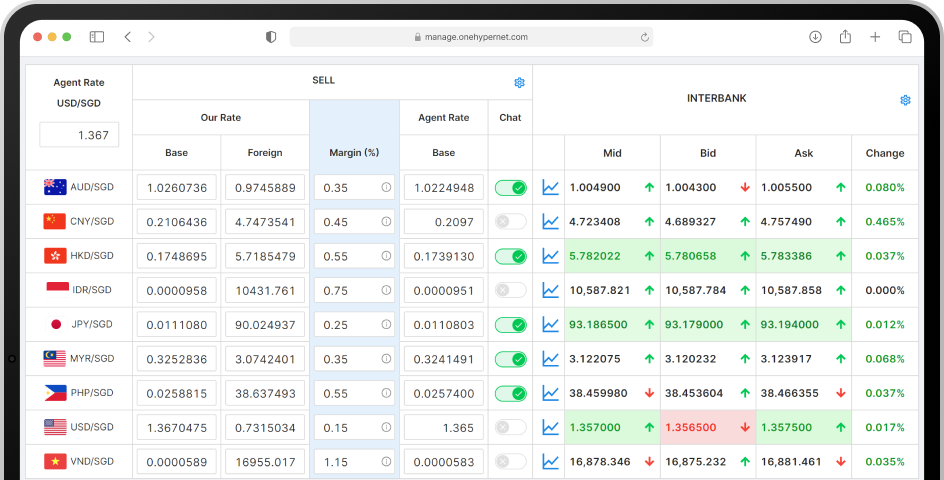 Transactions management and Customer database

Record transactions and link every order to your customer database

Auto-fill transactions by setting rules for each currency pair and customer type

End-to-end tracking of transaction flow from customer to your agent

Manage risk with real-time calculation of profit and loss, and FX exposure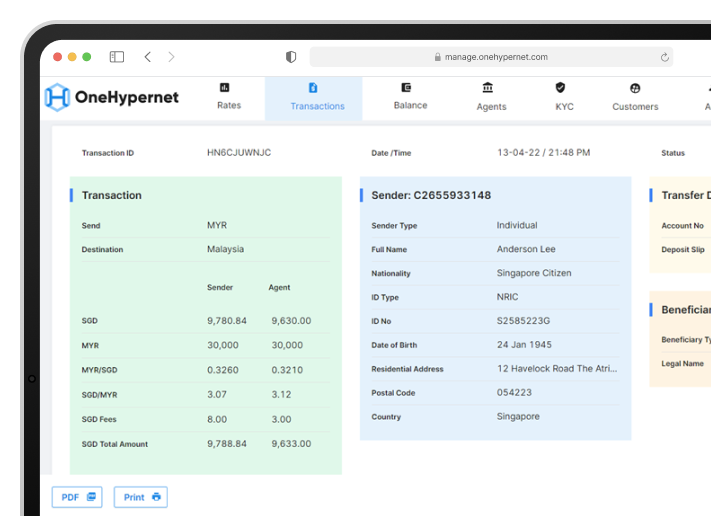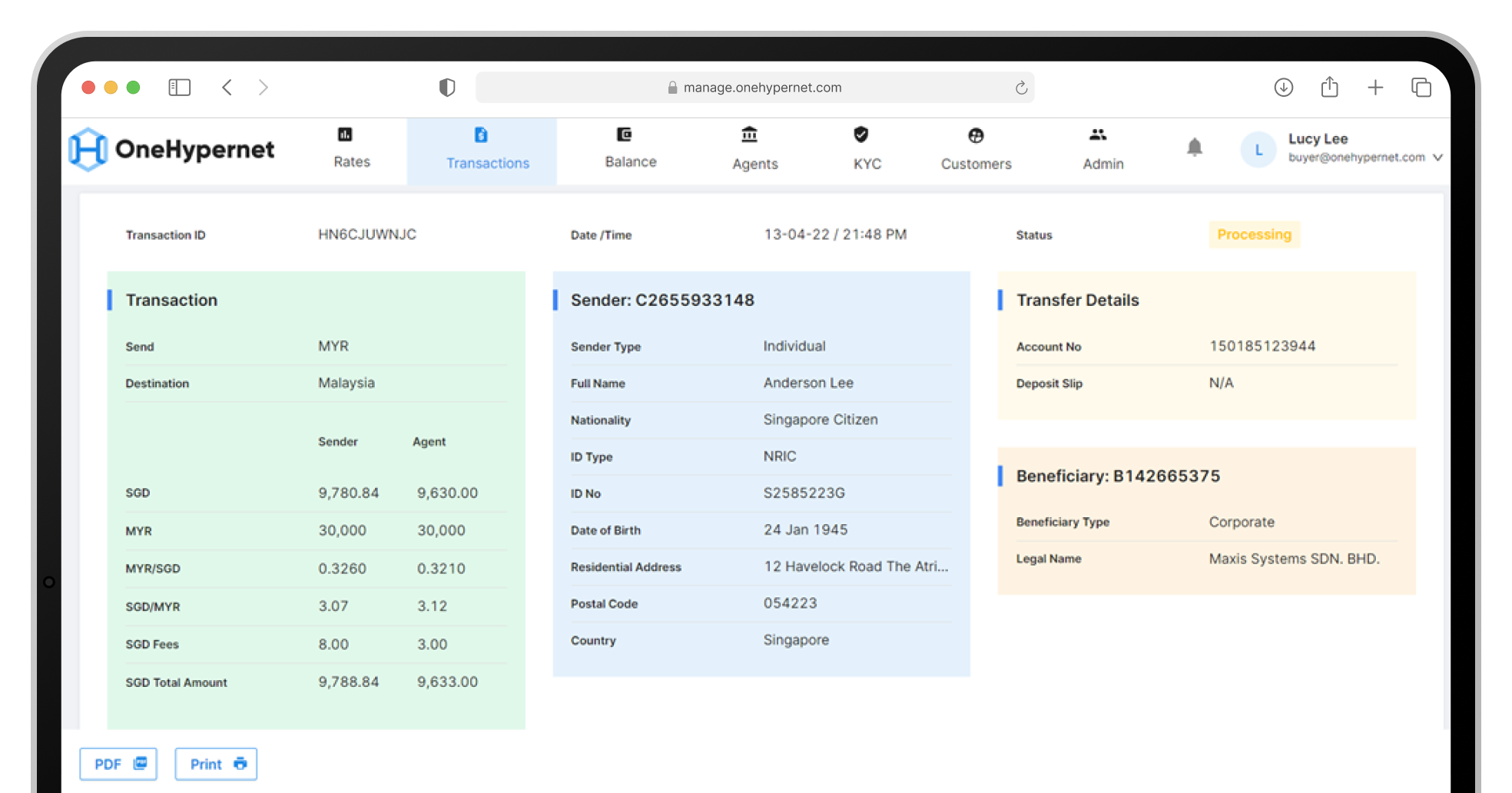 Join our global network of FX providers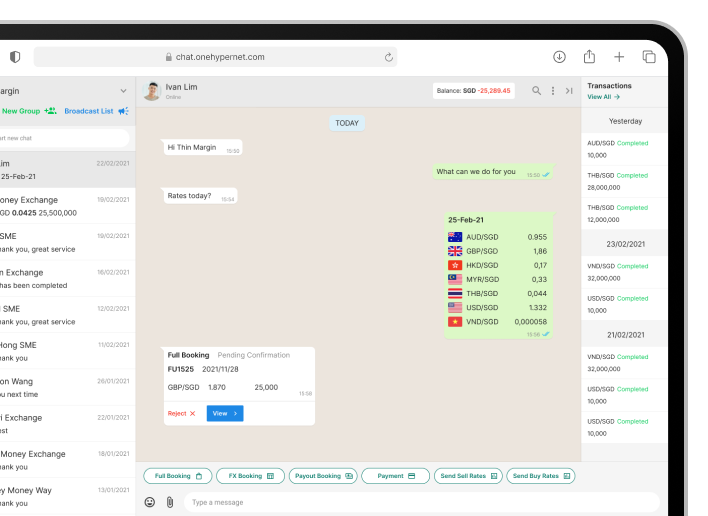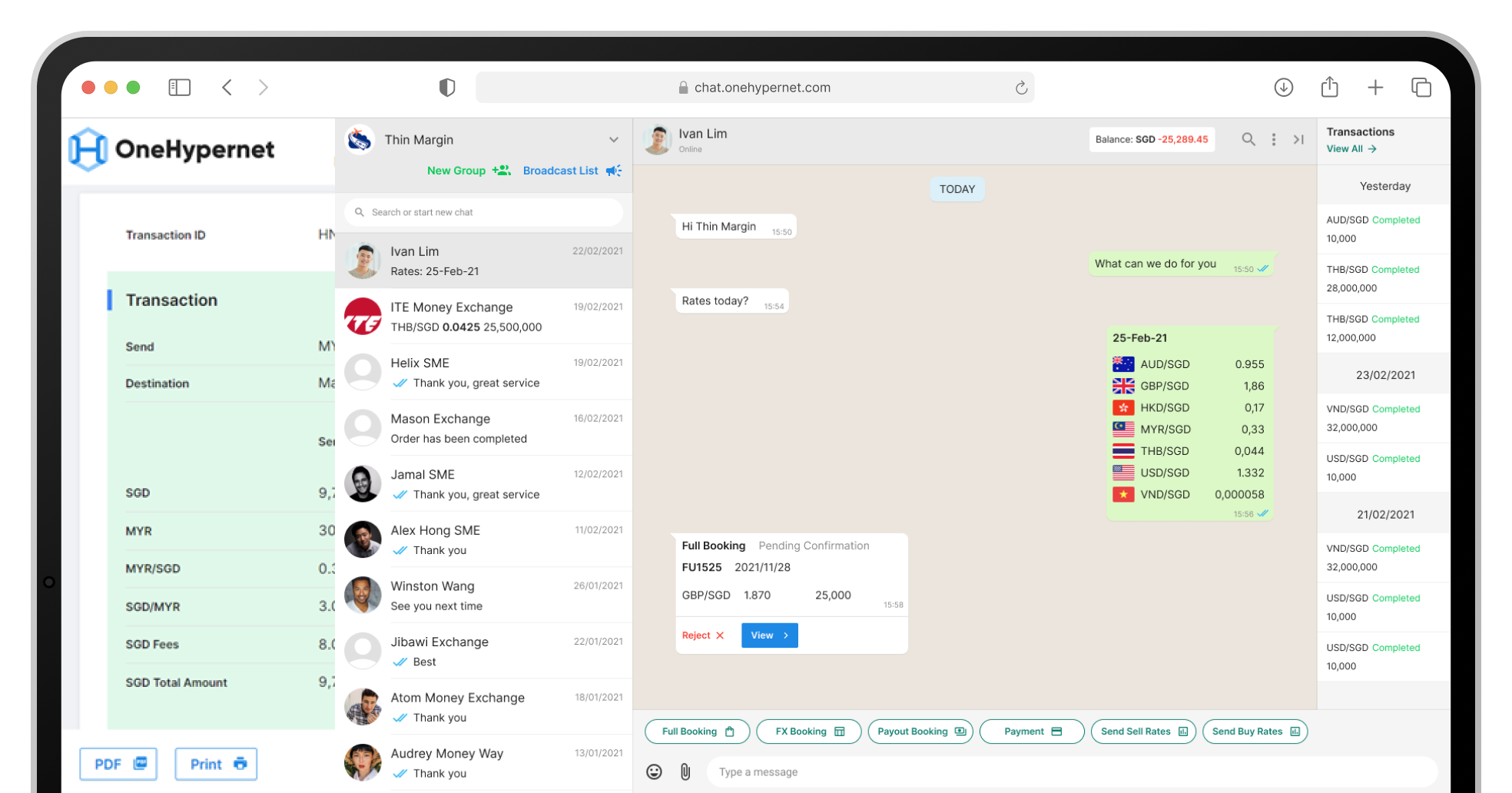 Discover and connect with new remittance agents and partners for disbursements

Enterprise chat system to receive and send orders to your remittance partners and banks

Sync chat with your business to automatically update transactions for each disbursement

Increase profits with better price execution of your FX orders
Digitise deposit slips and Automate operations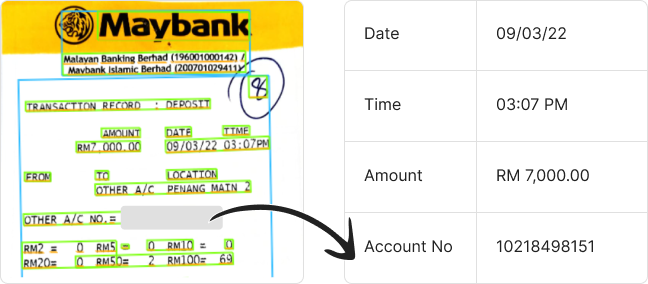 Optical character recognition
(OCR) to extract data from deposit slips

Automate matching
and saving of deposit slips to every transaction

Save time
by extracting data from all deposit slips with a single click

Increase accuracy
and reduce human error by relying on machine learning
Grow your money transfer business today
OneHypernet powers remittance agents of all sizes.
Sign up free in 3 minutes or book a demo with us.
© 2023 Hypernet Pte. Ltd. All rights reserved

*Hypernet Pte. Ltd. ("OneHypernet") operates an online platform service to provide an opportunity for the sale of services between users and MAS licensed partners. OneHypernet is not licensed nor exempted to provide cross-border money transfer services, and consequently provides these services in conjunction with MAS licensed partners.