Current Model
Cross-border payments are inherently inefficient because there is no ubiquitous global system; banking agents operate on different platforms, regulations, and operational protocols.
When a cross-border payment is initiated, the transaction and KYC data gets passed along in a bilateral chain of banking agents until it finds a connection to the intended recipient. This results in layers of fees, prolonged delivery, and a loss of privacy.
OneHypernet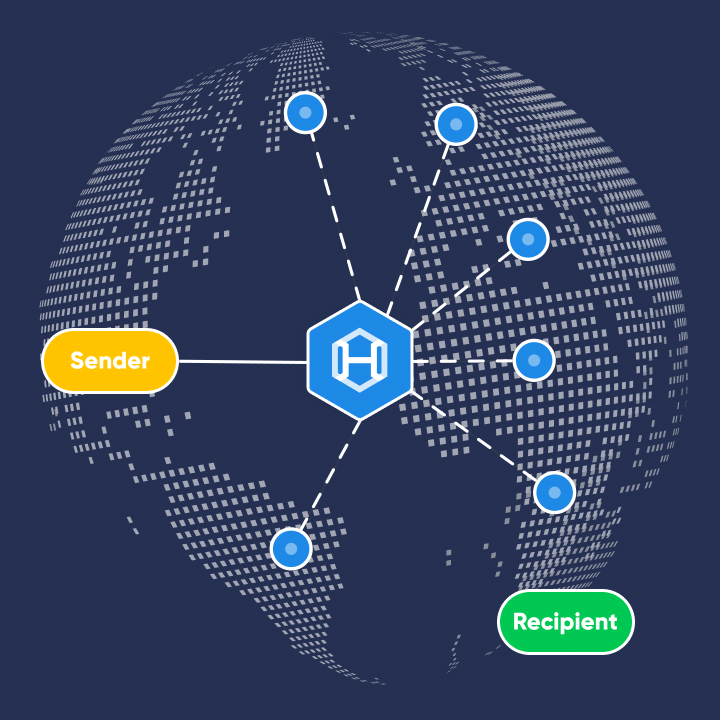 OneHypernet uses enterprise decentralised technology to connect markets on a global ledger, enabling a real-time shared view with standardised protocols and data privacy.
When privacy is preserved, any and all users can be connected. Instead of searching through a chain of banking agents, the most efficient payment route is generated from all permutations, giving you direct access to local accounts.
With a complete view of the market, OneHypernet matches offsetting payments across countries. Here's how we convert 4 cross-border payments into 1 domestic payment.
Current Model
FX participants currently manage bilateral relationships across different countries, making multiple settlements in different currencies and incurring high cross-border fees.
The potential to offset cross-border payments with local payments exists but is currently not possible. Each FX participant only has a limited view of the entire market as data sharing is infeasible and illegal in some jurisdictions.
OneHypernet
OneHypernet uses confidential computing to aggregate all transactions in a secure enclave. This means that data can be processed without being accessed by anyone, not even by us.
This provides a complete view of the market and achieves the most efficient prices possible. Our decentralised netting technology saves FX participants 96% of their cross-border fees while shortening the payment duration.
The OneHypernet Advantage

Extensive Network
Our network spans from traditional remittance agents to tier-1 banks, covering diverse currency corridors.

Domain Specialists
Our team has founded several of the largest money service businesses in Asia, including the first online money-changer in Singapore.
Regulatory Compliant
We only work with verified and licensed partners with robust AML and KYC processes.

Master Access
Full range of integrated FX solutions through a single connection; including live market rates, KYC screening, and enterprise trading.

Future Proof
Our decentralised infrastructure is interoperable with legacy payment rails, blockchain platforms, and digital currencies.

Confidential Computing
We go a step further with confidential computing to ensure end-to-end data privacy during processing.
Markets We Cover
For Banks
Lower liquidity costs and new revenue streams for financing and escrow services, leading to immediate margin expansion.
For SMEs
Get privileged access to wholesale FX rates from a full network of licensed remittance partners and banks.
For Payment Providers
Manage and expand your business globally by reaching new customers and agents through a single portal
For MNCs
Enhanced liquidity management for MNCs to perform private multilateral netting and optimise your cashflow.
For B2B Platforms
Power your platform with a network of cross-border payment partners through a single connection.
For Central Banks
Enhanced regulatory supervision with significantly reduced settlement risks of cross-border transactions.
© 2023 Hypernet Pte. Ltd. All rights reserved